What is the common use of the hunting cameras?
Hunting cameras are very practical tools for video monitoring in the wild if you want to monitor the population of wild animals in reserves for example. They allow anyone who once having installed them to become familiar with what is going on the field while he sits in his chair and did not disturb the animals at all. In addition, however hunting cameras can also be used in order to monitor the population of animals with aim to hunt them.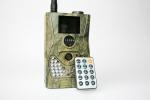 MMS hunting camera
Price: 362.95 €.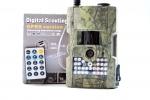 8 MP MMS hunting camera
Price: 372.95 €.

12 MP hunting camera
Price: 181.95 €.
Working with this tool for video and photos is an easy and seamless task. You just need to do programming by entering one SMS number. To this number when the sensor detects motion and activates the camera with which it will make a single picture or a short video, the camera will send a short SMS or MMS via GPRS system to notify you that there is some activity. The photos or videos are saved on the inserted microSD card in the device, which you can then remove and view the recorded files.
In its waterproof body you will be able to use it in wet places and in all weather conditions, no matter whether it is raining or snowing - you will be always informed about what is happening in the wild, in your yard or where the animals are because the camera can be used as a security device in a farm yard. Don't ask yourself if you are going hunting this season but just you just visit our shop and select your hunting camera that will later provide you with the necessary answers.