Is it really that easy using a hidden camera
A hidden camera can be your eyes and ears at any place where you reside. It can show you things you found difficult or sometimes impossible to explain, what is completely hidden from you or just to warn you about something that directly or indirectly would affect you. Hidden camera can be used on different occasions and ways - it can record a memorable precious event, capture the babysitter or to watch over the kids while you are away, to make sure that your beloved ones and your elderly relatives don't need your help urgently as well as simply to make funny pictures. All these and much more can done with a hidden camera.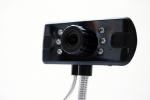 Hidden PC WEB camera
Price: 57.95 €.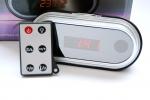 Full HD camera in a desktop clock
Price: 84.95 €.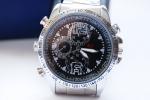 Wrist watch with a hidden camera
Price: 33.95 €.
Therefore, provided the fact that there is a huge functional meaning, the way of controlling and operating such a camera is very easy to allow by anyone who wishes to take advantage of its capabilities. As young children, and people over middle age, which can find technical devices too confusing at times. In fact a tech gadget can become our best friend. That's why you can just take your camera, put a memory card inside, turn on by pressing the only button on / off and start recording things. Nothing complicated, as you can see.
The only condition is before you turn on the camera is to make sure that its battery is fully charged in order to take advantage of it. Another major advantage is the fact that some of these little cameras have motion detection software, so you can safely leave it somewhere and walk out. This is a guaranteed way that you will see some interesting things eventually.
Visit us and choose your hidden camera that will help you stay updated on information in your home or office.