Are there any electronic door peepholes with motion detector
The electronic door peephole is a new generation device which can be very useful when you want to know who and at what time came to you at your doorstep. It is easily installed on the door, controlled with a remote control and the picture it takes can be seen on additional little screen that commonly accompanies the little camera and you can take anywhere. So you will not have to get up from the chair where you sit comfortably right now. And when you do not want to open immediately or you are alone at night at home you won't be in a hurry to answer the door because you will first want to see who is ringing.

Door peephole with motion detector
Price: 133.95 €.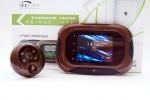 Door peephole with 2.8" display
Price: 90.95 €.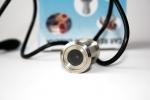 Mini Camera (Wired)
Price: 25.95 €.
One big advantage of the door peephole is that most of them have motion detectors. When the sensor detects motion near the camera or the visitor rings the bell attached to the peephole, then the camera turns on and captures a short video. Then you will only have to remove the card from the internal panel that is not visible from outside and do a quick preview.
Select your electronic peephole that will fit the front door at your home or in the office. Very suitable for any occasion and every house.