How do I work with a portable scanner?
Working with portable scanners is very easy and practical. When you are out there and it is urgent to scan a document that gives you little time for response, instead of looking for book store offering such a device, simply pull it out from your purse and scan the sheet with it. Then you can connect the scanner to a computer and view how things got scanned.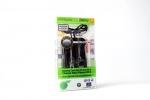 Solar charger for iPhone 4S/4
Price: 25.95 €.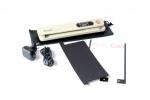 Portable scanner
Price: 128.95 €.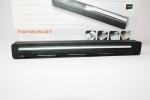 Handheld scanner
Price: 71.95 €.
Due to the fact that it works with 4 alkaline batteries you don't have to worry that at some point power will be off and you won't be able to get the job done. Place the document you want to scan, set your parameters - whether it is color or black and white what is dpi and press the button. Document or photo will pass smoothly through this device and you will have saved the image in JPG format. Then you only need to insert the card in the reader or the entire device to your computer in order to download the scanned files.
Response time is short enough to allow one sheet to be scanned in 6 seconds. Which means you can scan several documents to save time and frustration. Visit us and check all the models to select your portable scanner that will be your companion in all business trips.